Pull the plug on drains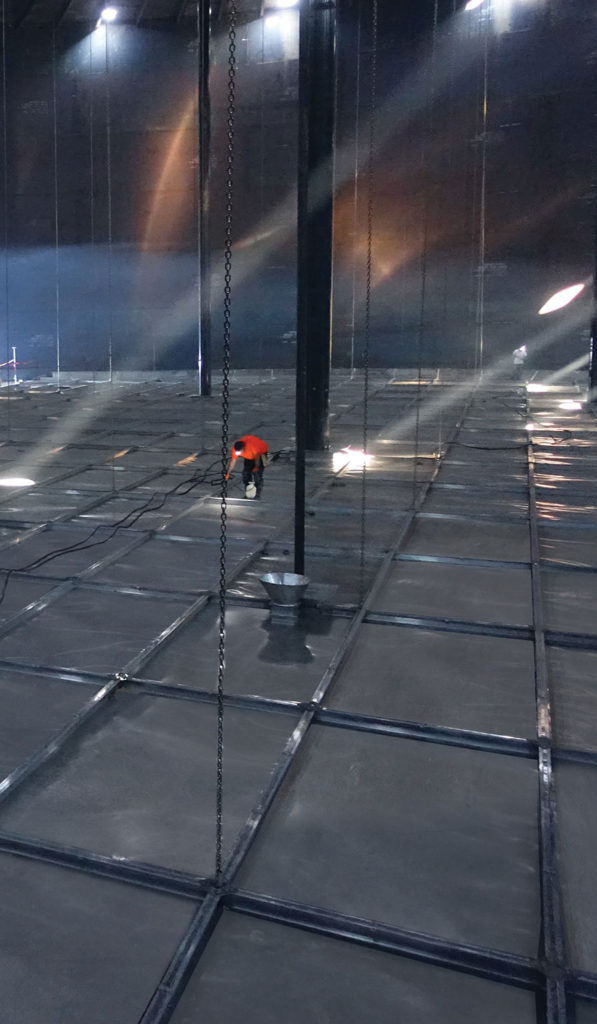 The design philosophy behind
a significant shift in IFR technology:
decks without drains
BACKGROUND
Drains are defined in AP-42 as either "open" or "closed." Closed drains are not typically used on aluminum IFRs because they require higher design loads. Open drains are typically flush with the cover and are intended to allow liquid to drain off. These are also called "stub drains" or "automatic drains." Since they are open, this type of drain is a source of emissions.
OBJECTIVE OF DRAINS
REMOVE WATER FROM ON TOP OF THE COVER
This is an inherent problem because water tends to sink to the tank bottom, collect around the corner weld or sump, and corrode the tank walls and bottom. Microbial induced corrosion tends to occur on the tank shell at the product/water inter­face.
REMOVE PRODUCT FROM ON TOP OF THE COVER
If there is product on the cover, the situation needs to be addressed. But drains can only function effectively if they are sized and located correctly, and are of the sufficient number. Drain quantity, size, and spacing are not addressed in API 650. This loophole allows manfacturers to provide insufficient drains without penalty, creating problems for the tank owner.
DRAINS AND LIVE LOAD
According to API 650 Annex H, if your design includes "automatic drains" the live load is reduced from 12.5 psf to 5 psf. The premise is that the drains will remove liquid from anywhere on the cover. AP-42 estimates that there will be one drain per 98 square feet (115 on a 120′ tank). A cover with ineffective drains and/or not enough drains, or drains with plugs, but still built to the lighter live load requirement, is in danger of being overloaded.
Downsides of drains:
Drains are a substantial source of emissions and odors
Drains include a liquid/air interface and become corrosion hot-spots
Drains allow the product to be contaminated from above
Water settles to the tank bottom, encouraging corrosion
Drains are only effective if they are at the low point when liquid is on the surface of the cover, and being in the right place is a matter of chance
Drains can be a safety hazard, pumping vapors into the work space during in-service entry
Ball-checks and other light plugs are unproven to restrict vapor flow upwards and tend to limit liquid flow downwards
Drains create weak spots in the deck skin which can easily rupture
POTENTIAL SCENARIOS THAT LEAD TO LIQUID ON TOP OF A COVER,
AND WHAT TO DO ABOUT THEM
Since the OpenRaft™ does not have drains, and is built as a series of bulk­headed open compartments, we've done a lot of work to identify various sce­narios that can lead to liquid on the top of a cover, and our recommendations on how to deal with them.
1 ) Water on top of a floating cover, due to a fixed roof leak.
The OpenRaft™ has 460% excess buoyancy, meaning relatively few panels are needed to keep the cover afloat. Removing unwanted water is achieved by pumping or evaporation. Since DISCUS panels are bulkheaded compartments, the water is limited to a few panels, making removal easy.
2 ) Product on top of a cover is usually the result of a mistake, design error, operational issue or incident.
Such incidents are likely preventable with the installation of an adequate liquid only or mixed phase diffus­er, mixer baffle, or pump interlocks.
3 ) What if product burps up onto the roof and gets stuck on top of the roof?
If a significant amount of product were to burp on top, removal and cleaning on a bulkheaded cover would be easier than all other styles of covers. Liquid runs to low points, however drains will often be high points because they are in raised, thicker, flatter skins, and rise as they work. The separate compartments characteristic of the DISCUS cover provide containment and limit the surface area that can evaporate. Identifying and cleaning of top side liquid can be done more safely, easily and quickly if the liquid is localized, as it would be in the compartments of the DISCUS bulkheaded cover.
By prioritizing strength and buoyancy and building to a heavier live load, the DISCUS OpenRaft™ functions more safely and effectively without relying on drains.