Bolted OpenRaft™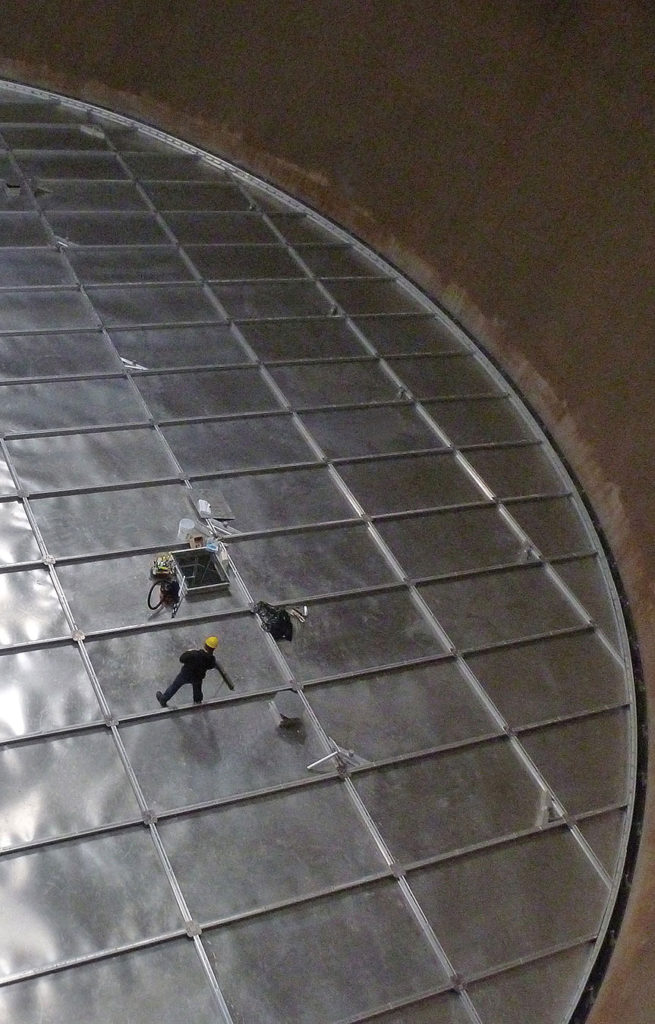 The DISCUS OpenRaft™ Bolted AIFR is the first and only (we patented it) internal floating roof of it's kind. Comprised of welded, open-compartment panels, seams are fitted together in the field in a proprietary mechanical and chemical sealing process where bolted channels fit together to form an I-beam. This design is structurally as strong as steel, and when it comes to emissions it is second only to fully welded seams. In most cases the DISCUS bolted design has lower emissions than other welded IFRs. Because of our Strong-As-Steel design, the DISCUS OpenRaft™ does not need drains, keeping emissions as low as possible.
All DISCUS panels are shop tested pre-construction including 4″ water column on entire panel and vacuum box testing during installation. Due to our panel design, and construction protocol, DISCUS is the only IFR that can be fully compliant with API 650 H.6.4
Strong as steel, strong as welded
The OpenRaft™ is a series of rafts (aluminum panels), each consisting of a thick skin (3.4x API minimum) and panel frame with a yield strength of 35ksi (comparable to A36 steel). When fit together, the panel frames form I-beams that create tremendous structural strength.
The DISCUS bolted OpenRaft™ is as strong as our welded design. Our structural strength comes from our material components, I-beam design, and patented 4-way connections.
4-way strength
FEA illustrates exaggerated displacements in both directions on the OpenRaft™ with a single point load between supports. While many other IFRs only have support to the edges in one direction, the DISCUS patented 4-way design provides support in both N-S and E-W directions all the way to the edges.